Grant Proposal Writing: Get Help from Professionals
If you wonder how to succeed in grant proposal writing, this article will shed light on the underlying principles of a successful proposal for a grant. A great thing about this specific article is that it does not focus on some specific discipline or subject area but provides general strategies that may be used in any research field. So, if you want to learn how to write a grant proposal successfully, read on.
What is a grant proposal and when is it written? As a rule, a grant proposal is a formal document that is written by people who want to win a specific grant. As such, when applying for a grant, the applicant is expected to submit a detailed and comprehensive grant proposal with a detailed discussion of the idea as well as argumentation of its significance and its overall role for the community. The result of grant proposal writing is either success and subsequent winning of a grant or a rejection. For those who have not succeeded in grant proposal writing, there is always an opportunity to improve themselves and apply for the next funding cycle.
Where to Find Prospective and Appealing Grants?
One of the main questions that interests grant applicants is how to find prospectus funding agencies and get adequate funding for the grant. It is crucial to investigate the agencies that provide funding by paying close attention to their mission, vision, values, and the actual essence of their practice and sphere of work or interest. When can you get a grant? - When you meet the needs and visions of a specific funding agency. If the funding agency is not interested in your project, it will not have any reason to provide you with a grant eve if it is impeccable in content and has ample justification. So, remember a specific grant proposal should be sent to a specific funding organization if you intend to succeed in it.
When you browse the Internet, you will come across a lot of information about different funding agencies and grant programs, so keep in mind that you will have to dedicate much time for close investigation of this issue.
How to Write a Grant Proposal: Helpful Tips and Strategies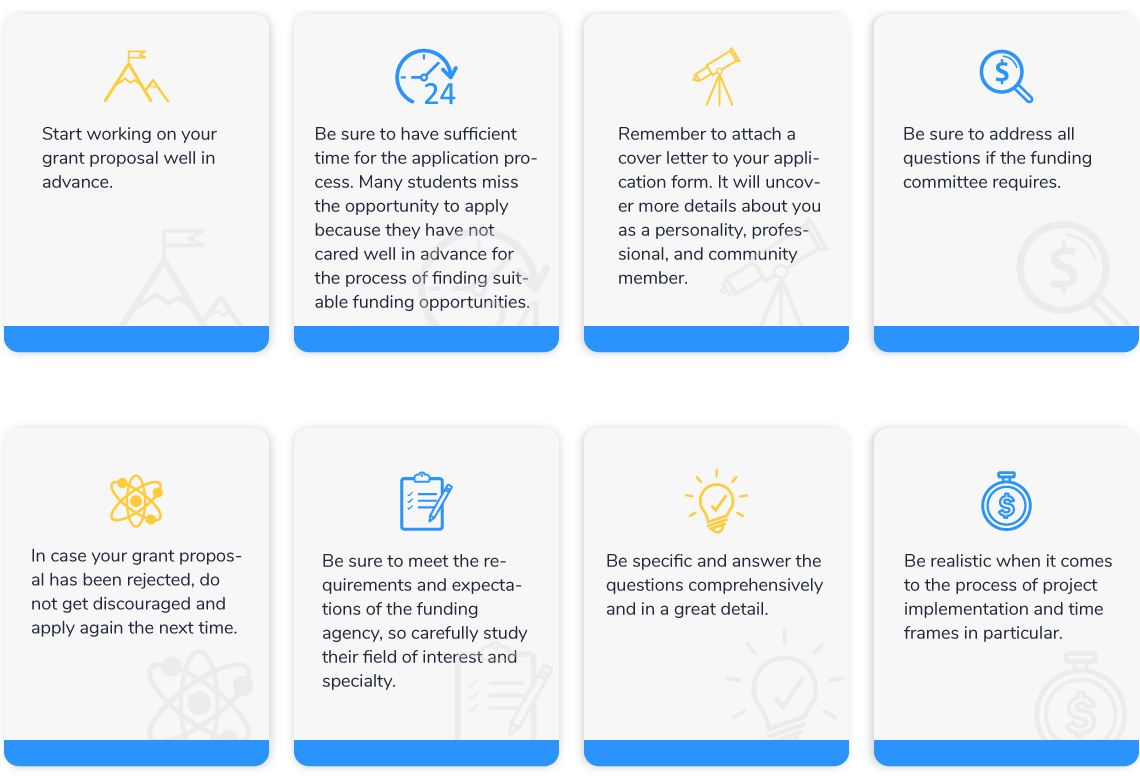 Consider the following aspects of writing a grant proposal effectively:
Audience. The audience for grant proposal writing is specific as it consists predominantly of the fund providers who are knowledgeable professionals in a specific sphere. Therefore, keep in mind that the funding agency will not even take into account a poorly organized grant proposal that does not address all the questions and that is not appealing to their attention. Therefore, mind the structure, the writing style, and the vocabulary you choose. Switch on your creativity and try to predict some questions that the funding agency members would have asked you. Be sure to sound persuasive and firm about the significance of your project as well as specific reasons why you should be awarded a grant and how it will change your life for a specific period of time.
Writing Style. Actually, the style of writing as well as the manner of organizing the whole grant proposal can tell a lot about you to the funding committee. The very text of the grant proposal can tell your funding agency a lot about who you are as a researcher, as a person, as a citizen, etc. From what you write and how you write, much can be inferred about your values, skills, and abilities, particularly whether you will be able to implement the project, you have designed.
Overall Budget for the Proposal. Grant projects differ from one another, particularly in their size, i.e. some projects require so much money that you will have to seek it from more than one funder. Therefore, if you send your grant proposal to a few funding agencies, make it clear how much money you expect to get from them.
Structure of the Proposal. You should precisely follow the organizational requirements provided by funding agencies. Actually, the organizational standards differ from one agency to another but some of the widely accepted rules are as follows:
Cover page;
Abstract page;
Introduction, where you state the problem, indicate the aim of the research project, and mention the project significance;
Review of literature (on which you can rely as expert evidence);
Narrative of the very project (cover methodology, aims and objectives, potential outcomes and results, analysis, etc.);
Personnel involved in the process of project implementation;
Budget required.
Revision of the Proposal. A grant proposal is a relatively long paper, so be sure to pay attention to the structure as you revise and edit it. Preferably, on the point of revision, please ask some person (friend or family member) to look through the proposal and give you feedback. Maybe he/ she could pinpoint to some specific areas of improvement. When revising the paper, make sure you check on the following aspects:
Is the proposal interesting to read?
Is there a clearly outlines hypothesis?
Do the project implementation steps seem believable?
Is it easy to read the proposal?
Reasons to Choose Our Custom Grant Proposal Writing Company
Types of Grant Proposals
When one hears the phrase "grant proposal," he/ she will probably imagine a huge document consisting of many pages. However, it is not actually true about grant proposal writing type. Surely, the paper length depends on the type of a grant proposal but do not expect that you will have to write a dissertation-like document. Check out the following list of grant proposal types:
Letter of Inquiry (LOI). As a rule, this grant proposal kind goes to a foundation. The core aim of LOI is to draw attention of a funding agency. If you do not know from the beginning which of the funding agencies might be interested in your proposal, you may send a LOI to each of them and see who responds. An average proposal length for LOI is two or three pages. As a rule, the main content of LOI just provides an overview of the project and gives a hint of what you intend to plan and implement with your project. On the whole, a LOI just helps for you and the funding agency to investigate whether the project is worth attention and whether it is a good idea to finance it. Once it was decided that the project is a worthy one, you are free to work further on your project grant proposal. Recently, it has become a new requirement from many funding agencies to first get a LOI in order to get the general idea of the project. Actually, it is a good initiative because the grant applicant does not have to spend a lot of time on describing the project that would be of no interest to the community and the funding agency. If you are working on a LOI now, be sure to briefly introduce the project, explain what need lies behind its implementation, provide a brief outline of the plan how you intend to bring the project to life, and highlight how the project fits into the greater context.
Full Proposal. This is actually the document that comes to our mind when we hear the phrase "grant proposal writing." In other words, this is the "flesh" or the "body" of what we propose. To succeed in writing a full proposal, you need to follow a specific structure: a title page, an executive summary of the project, the budget description, and others. Depending on the aim and the requirements, the full length of the proposal varies from 5 to 25 pages.
Letter Proposal. This type of proposal writing is often required by large corporations. They prefer to read a letter proposal instead of a full proposal, which is normally long. It will suffice to provide a letter proposal of three or four pages. The information that should be definitely included is a brief overview of your project, facts about your organization, the needed money request, etc. On the one hand, it may seem that writing a letter proposal is easier but it may be even more challenging, especially considering the fact that you will have to fit much information about your project in a brief format.
Grant Proposal Template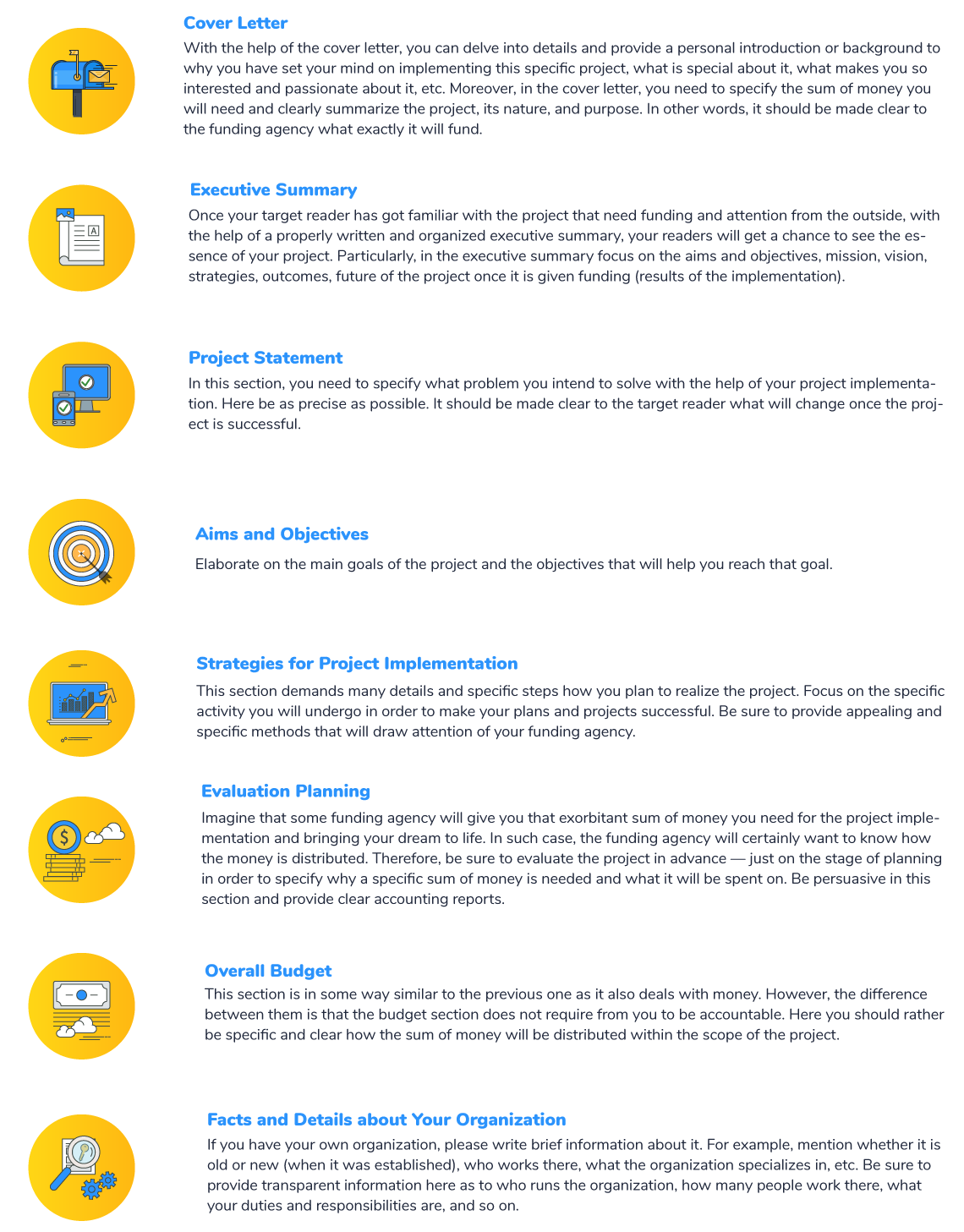 High-Quality Grant Proposal Writing Service
Essaysbank.com can confidently claim to be the best writing service on the Internet since we are very well equipped to complete any written assignment, no matter what region or country the customer is in. We have a team of more than 200 exceptional writers, all of whom hold MBA or PhD degrees. Each one is capable of completing any writing task you bring to us, including a grant proposal. You need never worry that you will obtain poor-quality work from our company. With such great writers to call on, you may be certain that every paper we provide will comply with prescribed academic standards.
Papers that are Free of Plagiarism
To underline our reputation as the best writing service online, we have an established quality assurance (QA) department so you can relax in the knowledge that the papers you receive from us will not contain any plagiarism. This ensures in equal measures that our work is unique and original and that there will be no need for you to be concerned about deadlines. If required, you are free to order a full plagiarism PDF report.
Papers Crafted to Your Exact Specification
Essaysbank.com operates a policy that ensures every paper our writers produce is crafted according to your precise instructions. If you want something done in a particular way that is what you get. In the event you think a paper needs any modification, you may avail of our free revision service.
Academic Writing Standards That Cannot be Matched
To be able to provide you with the best writing service possible, we assure you that our writers adhere to the highest standards in academic writing. This translates into the fact that you will not only get a paper that is very detailed and precise, but one that will also be accurate in terms of its topic. With writers who are qualified in at least sixty different academic disciplines, you may be certain that what you get is exactly what you paid for.
How to Order Grant Proposal?

Proceed with your payment
E-mail communication with your writer
Download your grant proposal to your computer
All Deadlines Will be Met
Essaysbank.com guarantees to adhere strictly to and meet every deadline that our customers provide because we know that time is of the essence with academic papers and it is essential to customer satisfaction. When setting deadlines, customers are encouraged to choose a wide enough timeframe for getting their order(s) completed. This then allows time for any revisions that may be required.
24x7 Support
To provide a college essay writing service that stands out from the rest, ours is one of only a handful of writing services to offer a fully functional customer support department. Therefore, whenever you have questions or want order-related updates, we guarantee there will be someone on hand to provide a prompt response by phone, email, or live online chat service.
Free Revision Service
Assuming you provide clear and easy-to-understand instructions, we will revise any work you think is not up to your instructions free of charge. We feel this is essential to assure you of only the finest quality texts. The timeframes for free revisions are: two (2) days after order delivery for papers not exceeding 20 pages in length and one (1) month after delivery in the case of papers that are over twenty (20) pages in length.
Specialist Writers Guaranteed
We guarantee that any essay or paper you engage us to write will be completed by an expert who is properly qualified in the relevant field. In other words, we do not ask electricians to complete medical essays. Since we have a whole team of writers with expertise in almost every academic field, you will have a distinct edge over your classmates. A feature that distinguishes our company from our competitors is that we facilitate direct communication between you and your assigned writer.